We continue to talk about Georgia, the phenomena of the rising trend for Georgian real estate and will focus on resort real estate on Batumi. From the practice of investing, we will choose the best for investments of new buildings in Batumi.
In order to reveal the topic in detail for the investor, we will continue to analyze what factors should be considered when buying property abroad in general, and in Ajara in particular.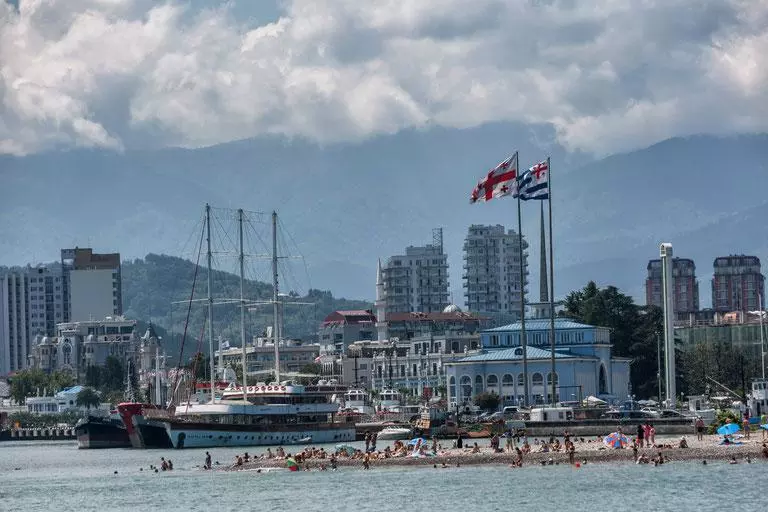 There are different types of income: passive and active. The active type of income includes those in which we take an active part, that is, physical and time expenditures - this is work, business, which is constantly engaged or art from which you earn a living. Passive income includes the following: a business that works without you, steadily generating profits; also, you can earn on the sale of your own knowledge by recording your training video course on a topic in which you are well versed; copyright - is also a passive income; one of the simplest and most understandable types of passive income is real estate.
Real estate as a tool for creating passive income

The acquisition of real estate in a good project, the city, (and also matters the country) - this is the key to success as the right property gives from 10 to 20 % of the capitalization within a year. And if you rent an object, then your income grows accordingly. And at the same time, you do not need to constantly take part in this, it is enough to manage the process or choose a reliable management partner. Buying real estate in different countries is a clear and profitable investment.
Let's look at the important criteria when choosing a property.
1. A country
2. Safety
3. Transparency of legislation
4. Acceptable tax system
5. The economy in a state of growth
6. Religion
7. Development of tourism and tourism potential
8. Mental and cultural closeness
9. Locations
10. Quality of construction
11. Location, infrastructure
12. Repair and filling
Of course, you will consider the country that you like best which climate is suitable for you. Previously, resort real estate was purchased more often for the purpose of family holidays. Now more and more investors are considering purchasing the property for income generation. Now we will talk about the income from renting and the factors that affect it.
The earning power from the rental.
Type of property
The quality of the building
Service 
Distance to the sea / the mountains /the center
Price policy
Infrastructure 
What types of real estate do exist?
Penthouses
Apart-hotels 
Hotels
Motels
Residential apartment
Boarding house
Hostels
Penthouses are two-story buildings with individual designs and, as a rule, the original exterior. The price per square meter ranges from $ 1500 to $ 2500 USD. Not everyone can afford such apartments. And if you buy such property abroad, it is usually for personal residence. In Georgia, penthouses are very popular, especially among visitors from Europe. Implementation of penthouses is carried out by groups of private investors, as well as several companies, in particular, PolloVillas, Geoline Constructions. The second one began the first in Georgia, in Batumi to build private villas, unique in their design, in the best locations.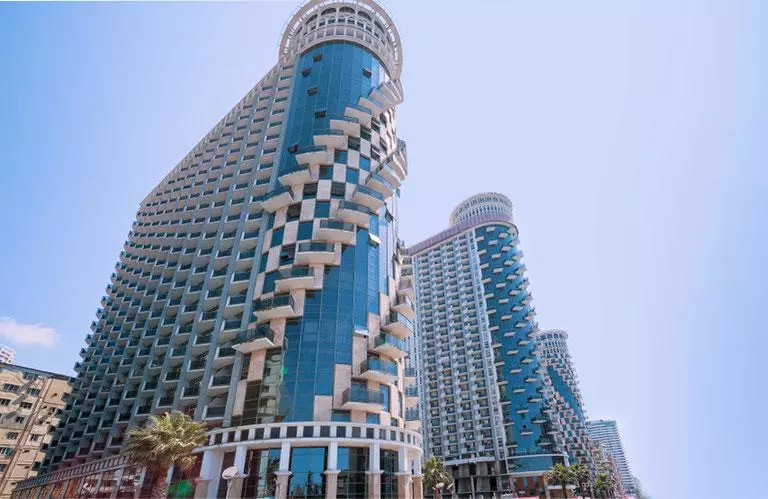 Apart-hotels are quite a new type of real estate, which is in demand in tourist places. The number of rooms can be from 3000 to 7000 rooms. Adjara, the Autonomous Republic of Georgia, stepped forward here. Several major players in the construction and development market have created a bill that allows the purchase of rooms in apart-hotels to individuals. That is, the owners of apartments in apart-hotels rent them out or outsource to a property management company. Read more about earnings in Georgia on the purchase of apart-hotels or rooms in the issue of income from apartments.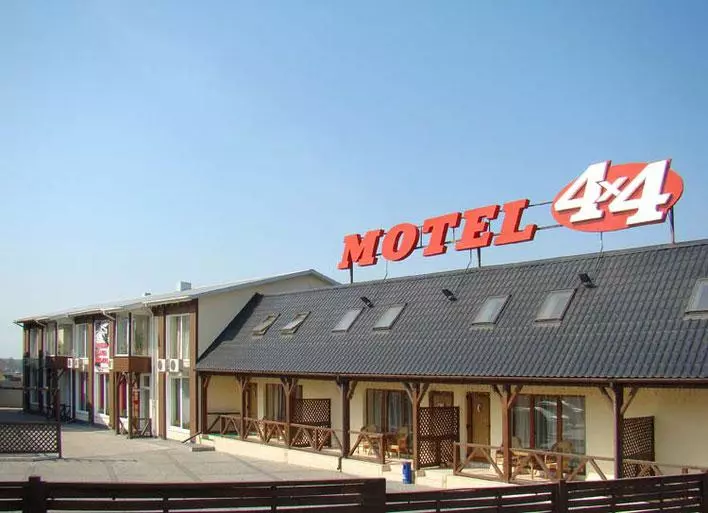 Hotels, motels usually have one or more owners. Regarding the purchase of apartments in residential buildings, here, again, depends on the city, the specifics, and the purpose of the acquisition. Different types of real estate have their target audience, pricing, and turnover of the apartment.
It is logical that luxury apartments are in demand less often than more affordable. Also, there are travelers who like to stay only in private apartments. "Every product has its own buyer" - a wise saying with which it is difficult not to agree. Actually, the choice is yours, who will be your target audience. The main thing is that your investment as quickly as possible returned. And brought a stable income. To help achieve this objective, we have prepared for every project in the country and region tables and projected profitability of each project, taking into account tax deductions, fees of the management company, etc. You can download the table of return in the description for each project.
Objects that bring the maximum return on investment
Calculation of real estate investments in Batumi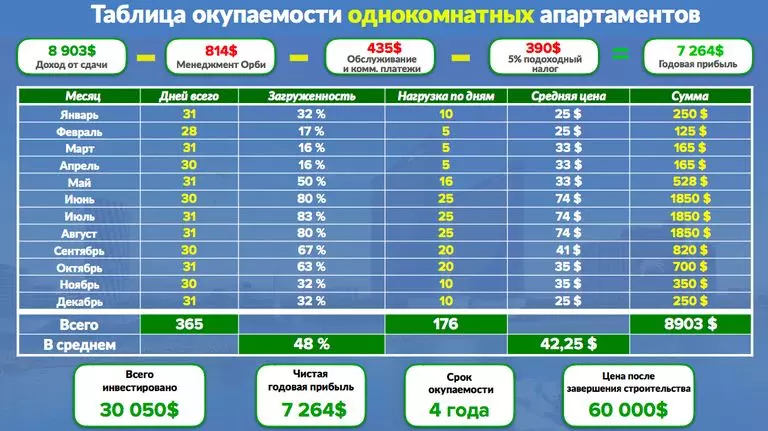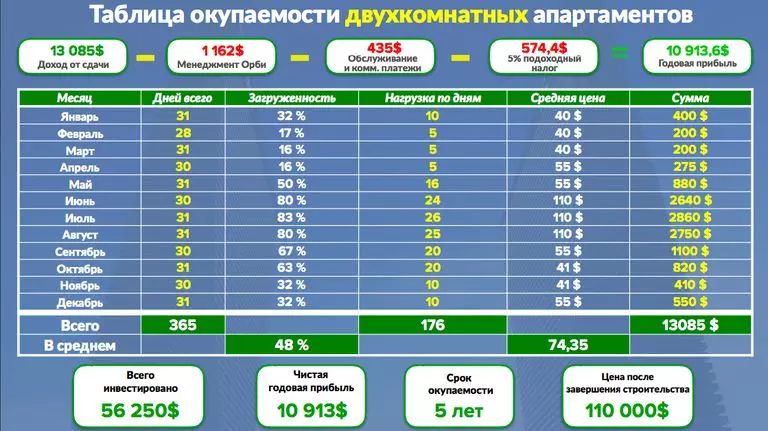 The optimal area of the apartment for return on investment is 28 -32 square meters since this area is the minimum for delivery and has a high demand. In addition, apartments with this area are easier to sell and rent to management, grow faster in price. For example, the purchased apartment with an area of 56 square meters, will be rented for a maximum of $ 120 per day. However, 2 apartments of 28 square meters each can be rented for $ 80 per day.
The season starts from May 20 to October 1. Out of 143 days, apartments are rented for an average of 120 days. 
| | | | | | |
| --- | --- | --- | --- | --- | --- |
| Name of the object in Batumi | Cost per 32 m2, $ | Rental price per day*, $ | Increase in the cost of the object for the year, % | Return on investment per year in % | Payback time |
| Porta Batumi Tower | 67200 | 60-100 (80) | 5,8 | 12,8 | 7 years 9 months |
| Orbi Beach Tower | 41600 | 50-90 (70) | 8,9 | 17,9 | 5 years 7 months |
| NewTime | 32600 | 50-80 (65) | 14,3 | 20,8 | 4 years 8 months |
| Horizont | 51200 | 40-90 (65) | 7,2 | 13,2 | 7 years 6 months |
| Alley Palace | 30400 | 40-80 (60) | 8,2 | 20,4 | 4 years 10 months |
For more information about the profitability of projects, you can specify in the description of the selected project. We recommend you to subscribe to our newsletter and always be the first to receive the latest news on the selected real estate markets.

Best regards,
the team of GEOLN