International real estate search engine GEOLN.COM
GEOLN.COM — is a search engine for verified properties around the world. 
Mission of GEOLN.COM
To systematize all the information available in the world about construction projects and real estate objects. To provide instant and convenient access to it. To provide an opportunity for the buyer and the developer/owner to interact directly. More details
Goals of GEOLN.COM  
We strive to ensure that modern digital information technology helps users in finding verified properties around the world. By creating a system of transparent relationships in the market, we help people be happier, saving time for the selection and purchase of the ideal real estate.
Through the tools of the GEOLN.COM search engine, we help users to quickly find the ideal property offers for purchase. Ideal options are those that match the client's request, are proven and meet expectations. 
Philosophy of GEOLN.COM
By developing an international search engine, we are creating the future of the real estate industry - a global expert environment in which proven market participants interact.  
DNA of GEOLN brand

G - Global 
E - Estate & Expert 
O - Online
L - Leader 
N - Network 
Global — wherever in the world you are looking for real estate, proven results are guaranteed on GEOLN.COM. We develop and strive to be useful.  
Estate Experts — expert environment and reliable content are key components of the informational part of our product. 
Online — search for real estate, chat with managers, view search results on request. It's a simple process with an easy-to-use filter search toolkit. 
Leadership (Industry) — is an advantage for GEOLN.COM users working with the number one market experts.
Network — is the GEOLN.COM trust network, which is a meeting place for a buyer and a seller, who interact with each other using modern communication tools. 
Real estate is GEOLN.COM 
 The future of the real estate industry is being created at GEOLN.COM 
The industry as a whole is going through the stages of digitalization. To find the best option for an individual request, the user-buyer of real estate chooses the search engine GEOLN.COM, the database of which contains only verified objects with reliable data.
Registered members publish their properties, open them up for indexing, and clients from all over the world contact sellers, developers and owners to purchase.
By offering innovative tools for interaction, we create new standards of work, form new user habits and we are convinced that finding real estate on GEOLN.COM is the most convenient way. This is confirmed by the millions of users of the service, whose number is only growing.
Developing the digital real estate market, we strive to:  
Make the real estate market transparent and accessible to the clients.
Establish a direct link between the buyer and the developer or owner.
Provide convenient tools for search, selection and communication.
Show only verified real estate offers in search results.
Improve the quality of service to developers around the world.
Work globally to help users find and purchase reliable, verified real estate listings.
At GEOLN.COM we help you to find
 We eliminate the chaos faced by the buyer in the publicly indexed network, on the Internet space of the real estate search engine GEOLN.COM, by providing conveniently structured information about the projects of residential complexes of developers, construction companies and owners of secondary real estate.
All information is verified and conveniently structured in the search results. The user can search on the map using keywords - search queries or filter.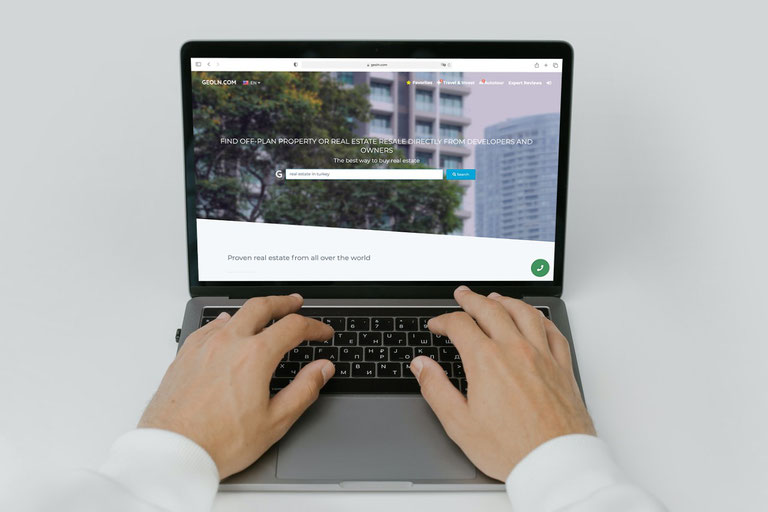 Search for real estate on GEOLN.COM by keywords - search queries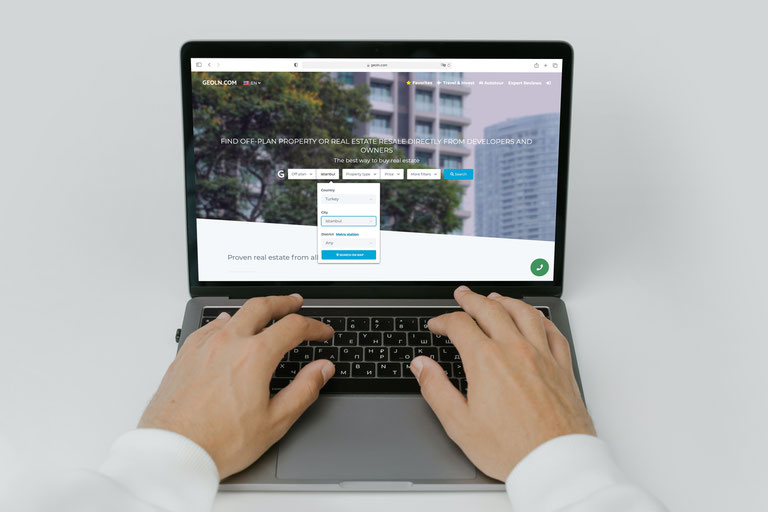 Search for real estate on GEOLN.COM by filters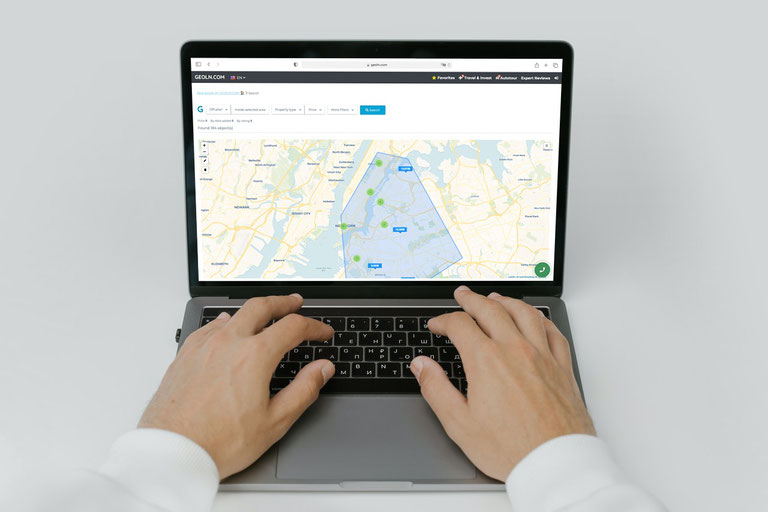 Search for real estate on GEOLN.COM by map (visually highlighting the search area)
The search can be carried out by countries, cities, districts, landmarks, or graphically, highlighting the area on the map. The SERPs contain useful and expert-verified information, as well as filters that will help you narrow the search results down to the parameters you need. You can contact construction companies and owners online in one window via chat. Also, the function of calling and requesting additional information is available directly from the site. 
Our goal is to change the approach to purchasing real estate in the world.
We want clients to purchase real estate from the developers and owners at a fair price without overpayments. With its revolutionary approach, GEOLN.COM has once and for all changed the established paradigms of the market and the methods of communication, providing clients with the opportunity to independently select and search for real estate according to the parameters of interest: from price, location, cost per sq. m., to analytics of the infrastructure of the selected project and direct communication with the developers' offices in one window.
Convenient tools in the form of lists of found objects, favorites, automatic comparison capabilities, apartment search, user's personal account, etc. allow you to save the history of interaction on GEOLN.COM and be your own real estate specialist, even abroad, in an unfamiliar country. 
We offer a completely new way to solve the important problem of real estate search - through an independent online search.
Try it, we are sure you will like it. 
GEOLN.COM - Trusted by industry Leaders 
GEOLN.COM - Leading expert by Forbes. By bringing together experts from the real estate market, we create a product which value is based on audience trust, reliable, verified information, professional presentation and world-class expert assessment.
Information and analytical materials from GEOLN.COM are cited by publications around the world, we are mentioned and quoted in Forbes, RBC, American Association, Obozrevatel and many other media. 
  Billions of dollars of transactions are made through the GEOLN.COM real estate search engine
 Construction companies from all over the world are creating their own construction brand pages on GEOLN.COM to be closer to the online audience of real estate buyer.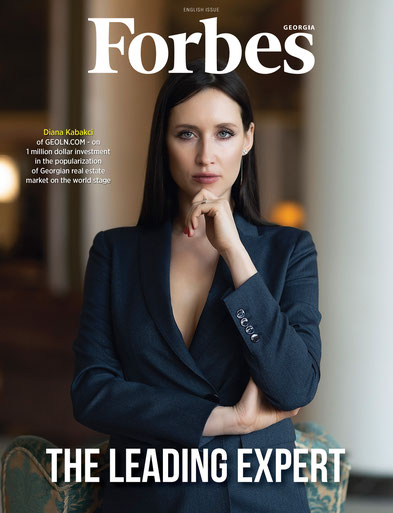 Services from industry leaders 
The world of real estate requires professional expertise, study, analysis and profile assessment by specialists. To make the process of searching, selecting, checking and buying as simple and safe as possible, real estate experts posted on GEOLN.COM provide specialized services at every stage of your transaction:
Search stage (for those who are looking)
Selection stage (for those who have found suitable options) 
Purchase stage
We will be there for you to assist in your search and purchase 

 Support at any time of the day or night
We are always there. The support team and operators work around the clock for users from all over the world. 


 Verified Search Results

All search results are verified and relevant wherever you are looking for a property to buy. 
User's personal account 

Save the history of interaction with GEOLN.COM in the user's personal account and come back when needed. 
Are you ready to try new real estate search on GEOLN.COM? 
Those who are looking for real estate no longer need to open dozens of different unverified sites, no need to compare information and prices manually or tediously search for seller's contacts ...
Now all the results are in one window, online at GEOLN.COM. We offer automatic comparison and communication without intermediaries. You can also call directly from the site as well as communicate with the sales department or the seller to clarify all the details. 
Make a search request and rate the issuance of real estate on GEOLN.COM 
  Sincerely yours, 

real estate experts of GEOLN.COM 
GEOLN.COM™ brand
GEOLN.COM™ is an international brand that creates a truly demanded IT product worldwide - the real estate search engine. We keep the atmosphere of a fast growing company. Take the opportunity to join the GEOLN.COM family and grow with us.
Follow the links to find out more:
Mission and goals of GEOLN.COM
FAQ
What type of company is GEOLN.COM?
What does GEOLN.COM mean?