There are so many new buildings in the city and you can find every one of them on the real estate search engine GEOLN.COM. We do our best to make the process of searching and selecting real estate (exactly according to your request) as comfortable as possible. All information about the residential complex you find online - location of the object, prices, 3D view with the chronology of construction, and even a view from a drone that shows future views and panoramas.
However, for the final determination, it is important to see everything, talk to the sales managers and personally check everything out. We know this, so we offer you the best way to save time and money-a car tour of new buildings.
You can plan a tour route and reserve a visit to the developer's sales office online. There is no need to call dozens of developer projects by phone - everything happens online.
Using tools and services by GEOLN.COM you can plan your tour route online, schedule a visit to the developer's office, and all this without a single call. A comfortable car with a driver will be at your disposal and will take you along the specified route.
How to plan a route of the real estate tour by car? Planner of real estate tour by car.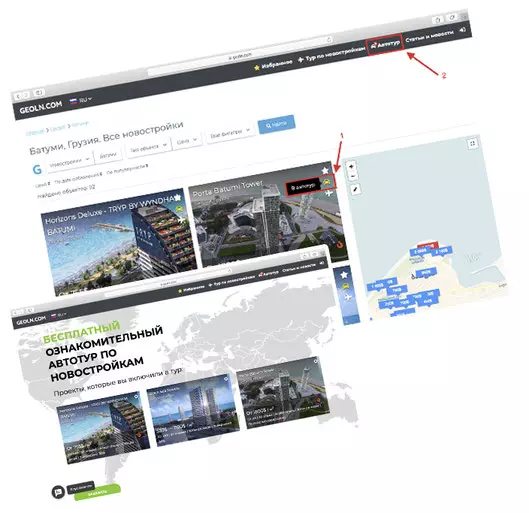 Planner of real estate tour by car
On GEOLN.COM you select your favorite properties and add them to the tour program [line-1].
To add a project to the tour by car, just click on the car icon in the project description card.
The selected property or the new property is automatically added to the planner of the tour by car that is accompanied by a corresponding animation.
The top line, in the auto tour tab, shows the total number of objects added to the tour [line-2] .

When you go to this page, the planner opens, where you can plan the time, route, dates of the tour and specify additional parameters and wishes, for example, set the car class or additional service that you need in the tour by car.

All you have to do is go on a tour by car along a previously formed route.
On a tour with an expert - "Expert on wheels".


Purchasing real estate is a responsible step. To make the right choice, we recommend using the services of a real estate expert from GEOLN.COM. Given the popularity of such services as purchasing real estate with an expert, third opinion in real estate, and personal selection on request, we offer you a unique format - to go on a tour by car with a market expert.
This solution gives you the opportunity to receive online consultations, learn up-to-date information and will be useful in forming your own understanding of the market situation. You can add a service of an expert on wheels to the tour program on the planner page. View the added items in the tour by car right now - https://geoln.com/autotour
Team GEOLN.COM