HolidayInn Blue Sky Tower is a supermodern hotel and residential complex that is ideal for permanent residence or vacation, as well as an ideal investment in profitable real estate.
The HolidayInn Blue Sky Tower project is implemented by the developer holding "LIKE HOUSE", which has been operating in the Georgian real estate market since 2001. To date, there are 15 completed objects, in the creation and operation of which the company participates at all stages. At the moment, 2 more large residential construction projects are under active implementation.
The HolidayInn Blue Sky Tower hotel and residential complex is located along the wide picturesque Avenue of Heroes. Within walking distance are a shopping center, a hypermarket, beach, administrative buildings. Convenient transport interchange is provided by the proximity of two major highways in Batumi - Sh. Rustaveli street and Tbel-Abuseridze street.
The HolidayInn Blue Sky Tower project has a rich internal infrastructure, which includes a casino, entertainment areas, a SPA, and a medical center, indoor and indoor pools, a fitness center, a gym, a beauty salon, a bowling alley, restaurants of Georgian, European and kosher cuisine, parking space.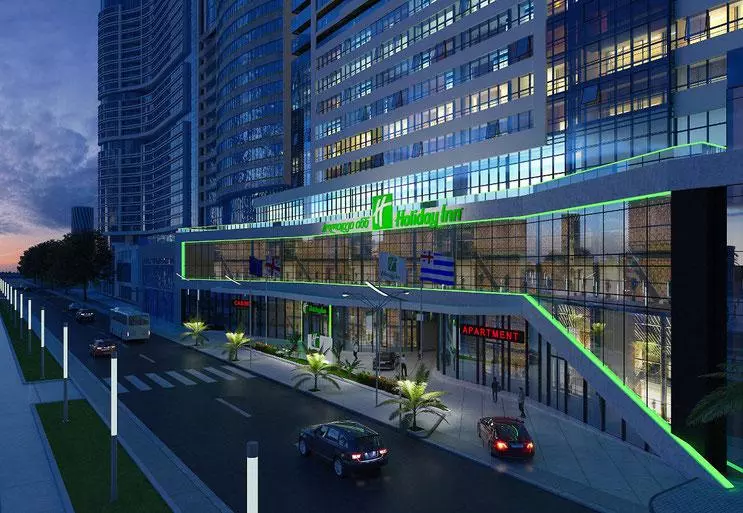 The HolidayInn Blue Sky Tower project was shown in the program "World Citizen". In an interview, the head of sales of the HolidayInn Blue Sky project, Tsira Kakhadze, answers the most important questions about buying real estate from an international brand with guaranteed income. 
You will find out: 
- about the BlueSkyTower Holiday Inn Batumi project. 
- current prices, promotions, and terms. 
- about opportunities for investors - buyers of real estate. 
- guaranteed income for the investor. 
- about competitive advantages. 
- plans for project development and implementation. 
For those who want to watch the whole episode of "World Citizen" in more detail, click on the link - https://youtube.com/watch?v=oxvzF2iPW6I 
Detailed information about the project is available at the link https://holidayinn.blue, as well as the official selling page of the project is available on the international real estate search engine site, where you can find out all the details. The link - https://geoln.com/georgia/batumi/279 
Contacts:
WWW: https://holidayinn.blue
MAIL: sales@holidayinn.blue 
Mobile: +995 558 7000 66