Black Sea Towers is a residential complex where everything is thought out for every detail to provide you with the maximum comfort of living in the city.
The Black Sea Towers project is implemented by the Real Palace company, which was founded in 2011. In a short period of time, the company has accumulated vast experience in the construction sector and all the necessary resources for the implementation of construction works: from project development to commissioning. At the moment, the company has 2 current projects in Batumi and 1 in Tbilisi.
Black Sea Towers Batumi is located in the heart of business Batumi, on the Avenue of Heroes. Within a radius of 700 meters are a shopping center and a hypermarket, the UEFA stadium, the beach, administrative buildings. The most modern technologies are used in the construction of the complex, such as the innovative Doka formwork technology for skyscrapers. Construction is carried out according to the EU's international quality standards and in compliance with the new regulations of Georgia from 2019, which guarantees the reliability and safety of the structure.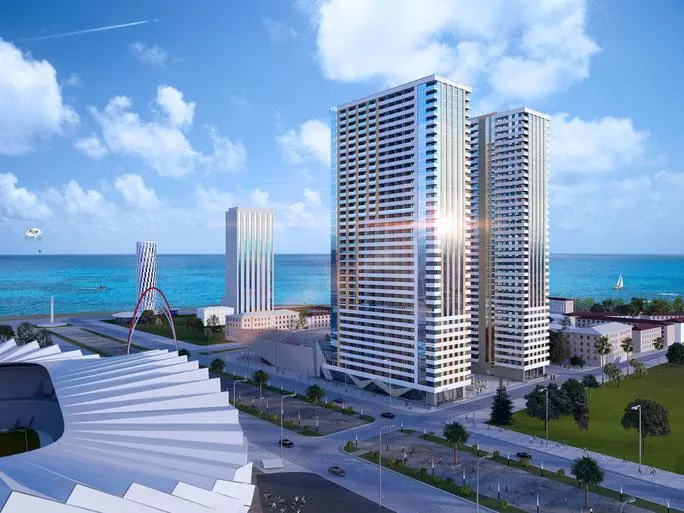 The complex has developed infrastructure: 6-level parking space for 400 cars, a SPA, a lounge-cafe, a fitness club, a children's playground, a sports field for recreation, a football mini-field. 
The Black Sea Towers project was shown in the program "World Citizen". In an interview, the head of sales of the Black Sea Towers project, Leona Rizhvadze, answers the most important questions about buying real estate. 
You will find out: 
- about the Black Sea Towers Batumi project. 
- current prices, promotions, and terms of purchase. 
- about opportunities for investors - buyers of real estate. 
- about the successful experience of managing profitable apartments in the company. 
- about competitive advantages. 
For those who want to view the whole episode of World Citizen in more detail, follow the link - https://www.youtube.com/watch?v=gniqPh9BUGY 
Detailed information about the project is available at the link https://geoln.com/georgia/batumi/293