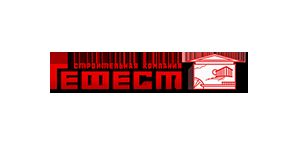 Гефест
Objects for sale: 9
Prices, from: 732$/m2
Off-plan on the map
Developer
The construction company Hephaestus began its activities in the Ukrainian market in 1997 in the city of Odessa. Founder Panteleimon Vasilyevich Bumburas assessed the prospects for the development of this region, its increasing demand for housing and infrastructure, coupled with a lack of construction firms and companies in the region.
Professionalism, dedication, respect for society and the environment, and most importantly love for embodied objects was and is the secret of success and the main reason why Hephaestus has earned the trust and respect of both local and foreign investors and the public.
Today, after 20 years of continuous work, the Hephaestus construction company is a synonym for quality, stability, good taste and a rapidly developing construction association. Shopping and office centers, residential buildings, hospitals, restaurants, educational institutions adorn the streets of Kiev, Odessa, Yalta, Sevastopol and Mariupol.
The Hephaestus construction company constantly takes care of continuous improvement of quality and control at each stage of construction and installation works, has its own material and technical base for the production and processing of building materials. Namely: the production of the highest quality concrete, the manufacture of aluminum windows and doors, the import and processing of marble, the production of decorative elements of facades, the manufacture of metal structures.
As a result of this strategy, the Hephaestus firm is able to meet complex time and technical requirements.
The goal of our company is satisfied customers and maintaining the trust and respect of consumers. Its perspective is the creation of a strong construction organization at the international level, characterized by high quality, respect for the environment and social aspects.
Ask a question