The world is becoming mobile, borders are being erased, and more and more people are discovering opportunities for sharing vacations, in particular, RCI. This is a unique international timeshare vacation exchange system, allowing people to travel and relax around the world, saving on paying for housing.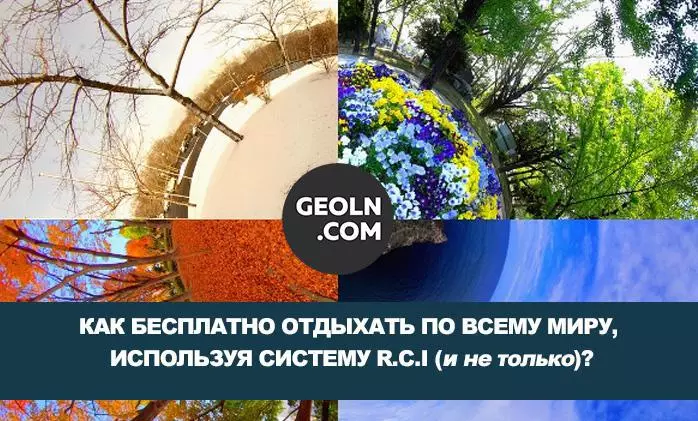 "Time-sharing" is the main principle of the program. Once a person has acquired the right to use resort real estate, they get the opportunity to spend a certain amount of time each year in apartments of other owners in more than 100 countries of the world.
One of the most important advantages of a timeshare is the ability to live and relax at your own pace, exchanging property with other program participants. Timeshare participants can choose their own country for their annual vacation and plan their own cultural and entertainment program.
What are the benefits of a timeshare?
Different options for participation in the program allow you to get a fixed or "a floating" period of rest –more than one week
If you wish, you can prolong the vacation length for an additional fee
You can get special points that you can use when booking accommodation, goods, and services
There is a separate investment program, which allows you to earn money on renting out an apartment. It is valid in a number of countries and offers you to buy a fully owned apartment and exchange it with other club members, providing the participants with the right to stay in your apartment. In exchange, you get the right to stay in the apartments of other members all around the world. You combine vacation and rental income. Membership for participation in the timeshare program and in the investment program can be provided by a management company, a developer company, or you can become a member of the vacation club by yourself.
The program of vacation ownership and shared ownership of real estate (crowdfunding) is gaining popularity as an additional service when buying a fully owned apartment. These forms of ownership of real estate allow you to earn from renting out with other owners and relax according to a cyclical schedule of residence. A crowdfunding system has started operating in Georgia. You can buy an apartment for $ 6000, with the first payment of $ 1500. Read more about crowdfunding at the link - https://crowd.geoln.com
How does the RCI system work? 
After acquiring the right to use the property, the owner receives lifelong a certain period of time to have a rest, usually 1 week. He can go on vacation there every year by himself, or he can deposit this week in the exchange system on a par with other participants of the program.

Each "week" has its own value, expressed in a certain number of points, this is the exchange potential of the week. It is calculated based on several criteria:
type of vacation,
the location of the property,
season,
ratings of club members, etc.
Everyone can choose where to spend their vacation from thousands of different offers. Thus, once you have paid for your part of the property in one place, you can spend your vacation in another country every year.
Flexibility is a huge advantage of the system. You can choose and book a vacation that is not only equal in cost to your week.
• If you exchange for a vacation with lower potential, the unused points are transferred to your account as a deposit, which can then be spent on a new trip.
• For booking a vacation with a higher estimated cost, it is possible to combine several deposits.
Membership in the club is for life, and the right to use the apartments can be inherited. For more information about how the exchange system RCI works, see the video below and follow the link - https://issuu.com/rcieurope/docs/euc907_new_weeks_member_guide_ru_pr (presentation and instructions on how to become a member of the RCI club and reserve a holiday resort) 
Timeshare opportunities in Georgia 
The timeshare system has existed for more than 60 years and is popular all over the world. In European and American countries, the activities of timeshare companies are regulated at the state level.
The world's largest vacation exchange company is called RCI, Resort Condominiums International. This is a club that unites members of the timeshare vacation apartment exchange system. The second most popular similar company is called II Interval International, it is more common in the United States.
Clubs that are part of the exchange system are created and operated all over the world, and anyone can become a member. There are also projects in Georgia that offer membership in the RCI club.
To date, various construction companies have announced their participation in the international vacation exchange program. In particular, the company KASKO, which is building a modern premium class complex - BI RESIDENCE, as well as the company ELT Building, which is building a 4-star LaQuinta hotel by Wyndham; a convenient timeshare program together with R.C.I is offered by the developer Horizons in the project Tryp by Wyndham; detailed information about the projects can be obtained by going to the official pages of developers on GEOLN.COM. It is worth noting that Horizons also cooperates with the international management company Sophos, and also develops its own direction in the hotel and tourism sector, which allows the developer, the management company, to provide owners who bought apartments with a guaranteed income, as well as to ensure participation in the R.C.I vacation exchange program. This is very convenient because you do not need to register yourself in the recreation club, get the status of a participant and prepare documents. Participation in the international vacation exchange system will be provided by the management company, saving you from the hassle of providing a service and the opportunity to exchange apartments. Another nice bonus for Horizons customers is the opportunity to stay for free for 15 days a year in already built apartments while your Tryp By Wyndham home is being built.
The largest real estate search engine GEOLN.COM provides an opportunity to buy apartments directly from developers and owners, without resorting to the help of intermediaries and realtors. You order services only if you need them - translation, legal support, real estate verification, expert opinion. Check the terms of participation in the RCI international vacation exchange program and join the preferred timeshare club. 
Best regards,  
GEOLN.COM