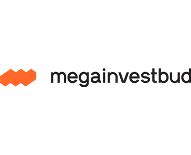 Мегаинвестбуд in Kharkiv: property from developer
Objects for sale: 7
Prices, from: 402$/m2
Off-plan on the map
Developer
The company was founded in 2003
Today the company has 12 successfully completed projects and a clear vision of its mission: we are building the future in which we ourselves want to live.
Reliability, honesty and competence are the values ​​that underlie the company's activities. We have implemented these principles in each brick of objects built in various segments: from economy class housing to premium class. This is the peculiarity of megainvestbud - we understand the needs of people and do our best to satisfy them. The company operates in 3 real estate sectors: economy, business and premium.
We have developed loyalty programs that allow you to find a successful solution in each case.
Prices are fixed in hryvnia, so we are not affected by currency fluctuations.
We guarantee maximum transparency when concluding an apartment purchase agreement.
In addition, we accompany the client at all stages of purchasing an apartment - we answer all questions until the conclusion of the purchase agreement, and after that our service department is happy to help in solving all everyday situations.
Ask a question