Borjomi
Borjomi is a resort town in south-central Georgia with a population of approximately 14,445 residents. Situated in the northwestern part of the Samtskhe-Javakheti region, the town is nestled in the picturesque Borjomi Gorge on the eastern edge of the Borjomi-Kharagauli National Park.
Borjomi is famous for its mineral water industry (which is one of Georgia's primary exports), the Romanov Summer Palace in Likani, and the Borjomi-Kharagauli National Park. Borjomi mineral water is particularly well-known in former Soviet Union countries.
The town is a popular year-round vacation destination for both local and international guests. It is a convenient landing spot for those interested in visiting the Borjomi-Kharagauli National Park, which received around 60,000 visitors in 2017. It is also a midway-point for those travelling to Vardzia. 78% of Borjomi's hotel guests come for leisure and recreation, and 9% visit for health reasons. The occupancy rate of hotels in Borjomi is 53%. The ADR is USD 86 and the RevPAR is USD 46.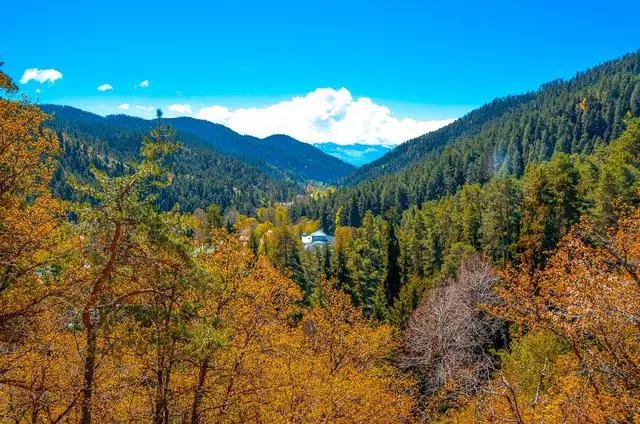 The village of Abastumani, located on the southern slopes of Meskheti range close to Borjomi, is a spa resort famous for its special climate. The air in Abastumani is thought to have the ability to prevent pulmonary disease. Though the climate is beneficial year-round due to the resort's moderately dry, mountainous air and coniferous forests, it becomes especially useful for the prevention of pulmonary diseases in the spring, when pine trees begin pollinating. Additionally, the slightly mineralized, hyper-thermic springs have been used in the treatment of tuberculosis. Even for those in good health, Abastumani is a great destination for outdoor activities in the Borjomi-Kharagauli National Park.
Despite its great potential as a spa destination, Abastumani's hotel market supply is comprised mainly of
guesthouses and small cottages. The area's four hotels - Abastumani Residence, Hotel Iveria, Hotel Kapa, and Green Hotel - provide only 56 rooms and 158 beds altogether. The Redix Group is building a new 4-star hotel, which will accommodate 200 guests and offer a vast range of therapeutic and health-improving treatments to its guests.
Utsera, Shovi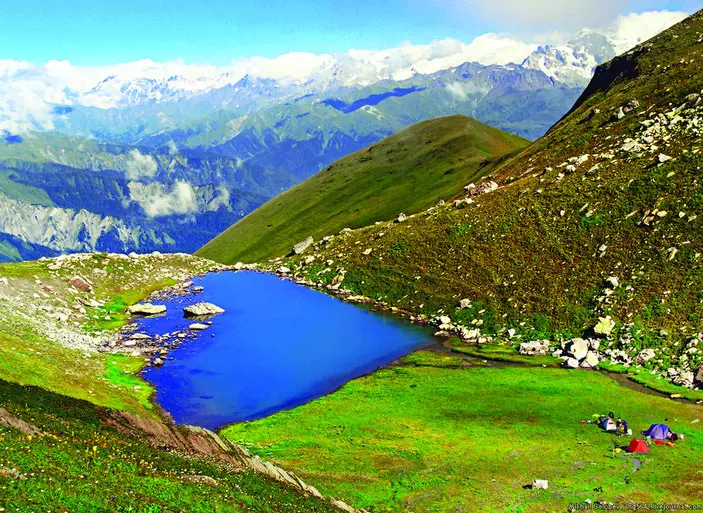 Utsera and Shovi are spa and wellness resorts located in Upper Racha, offering guests a total of mineral springs well-known for their unique restorative properties. Quite different from those previously discussed, the mineral composition of the waters at Utsera and Shovi provide complementary healing for digestion problems, respiratory tract diseases, gynecological diseases, and other ailments. The mineral waters of Utsera and shovi are used both as baths and for drinking. Because Utsera and Shovi also have coniferous forests, visitors reap the therapeutic benefits of the climate as well.
These towns have the potential to be attractive destinations for outdoor activities such as mountain climbing, hiking, and rafting, though with only three hotels – the Sunset Shovi, Pansionati Mamisoni, and Rachuli Sakhli – the town cannot meet a large tourist demand. 
Akhtala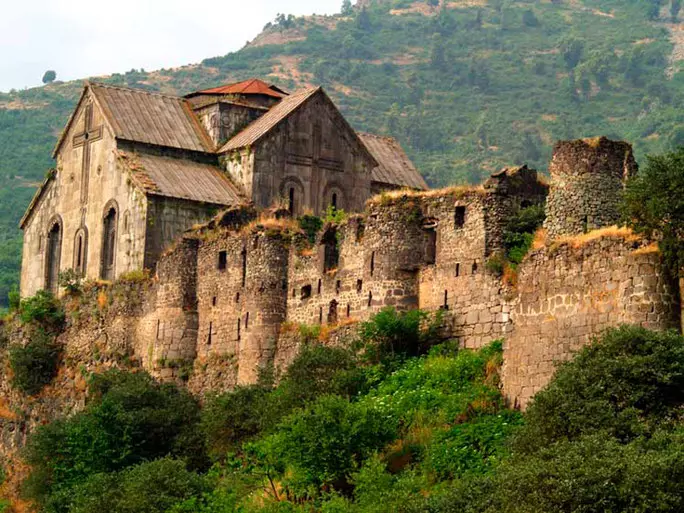 Akhtala Fortress
Akhtala is another one of Georgia's key spa destinations. Located in Gurjaani, Akhtala is famous for its volcanic mud baths that are rich with biologically active elements and used in the treatment of various skin diseases, infertility problems, bone and joint diseases, and peripheral nervous system diseases.  Because of its unique mud offerings, the resort has the potential to be very attractive to both domestic and foreign tourists. Currently, however, the Akhtala Sanatorium is the resort's only hotel. Rehabilitation of  Akhtala resort started in April 2012, and the resort was included in a privatization list in 2015.