Georgia's Black Sea coast encompasses the towns of Kobuleti, Gonio, Kvariati, Sarpi, Chakvi, Anaklia, Ureki, Shekvetili, and Grigoleti. Tourists visit these seaside resort towns during the summer months from June through September, arriving primarily from Russia, Turkey, Armenia, and Azerbaijan. Locals are visiting in increasing numbers as well; during 2017, 12% more locals visited the Adjara and Guria regions as compared to 2016.

Hotel in Shekvetili
Following Batumi, Kobuleti is the second most popular resort on the Black Sea shore, and a popular summer destination for Georgian families and tourists visiting from neighboring Armenia. Kobuleti and Chakvi are the most occupied seaside resorts. Gonio, Kvariati, and Sarpi are located next to Batumi towards the Georgian-Turkish border. These resort towns attract visitors looking for an escape from urban life, while remaining close enough to vibrant Batumi that they can enjoy a variety of entertainment options. Gonio is well-known for its clear water and brightly-colored houses, and an ancient Gonio fortress - a Roman fortification that dates back to the 1ST century AD.
Ureki is a climatic resort in the Guria Region. Unlike many areas on the Black Sea, Ureki's beaches are sandy, rather than covered in pebbles, making it a popular summer destination. The sand in Ureki has magnetic properties believed to have curative powers for cardiovascular diseases, as well as locomotive and nervous system disorders.
Ureki is situated between Grigoletiti the north, and Shekvetili to the south. Though coastal, sandy resorts like Ureki, Grigoleti and Shekvetili are quieter and more relaxing tourist destinations. Shekvetili's beach is bordered by a rich pine forest that makes the resort's climate unique.
Demand 
The newly-built, 10,000-seat Black Sea Arena concert hall is located in Shekvetili. This popular venue hosted many events throughout the 2017 summer season and will host Elton John in July, 2018. Shekvetili's Tsitsinatela amusement park offers guests a blend of unique rollercoaster rides and family-friendly activities. Operational from June to September, Tsitsinatela attracts more than 300,000 seasonal visitors who come from the various seaside resorts.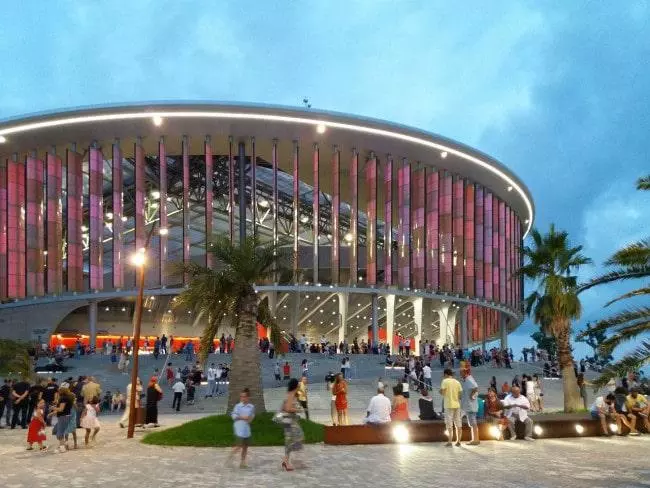 Shekvetili Arena
Anaklia is a relatively new seaside resort which hosts the international GEM Fest music festival, making it a go-to destination for electronic music lovers. Aside from leisure-related guests, hotels in Anaklia host a substantial number of corporate events.
In 2016, 91% of hotel guests were leisure travelers, and 7% of them visited seaside resorts for business purposes.
Supply
Since 2014, the number of hotel rooms in Georgian seaside resorts has increased by 40% (to 1,220). The summer resort market is dominated by local budget/economy class hotels and only 17% of the room supply falls into the upscale segment. In 2017, no internationally-branded hotels operated in the seaside resorts. However, the internationally-known Autograph Collection, a luxury hotel chain owned by Marriott International, will open the Paragraph Resort & Spa in Shekvetili in the spring of 2018. The Paragraph will offer 220 rooms (accommodating over 500 guests) and include a spa and wellness centre, restaurants, conference halls, and other facilities typically provided by high-class hotels. The absence of international midscale hotels on the seaside resort represents an opportunity. Shekvetili's hotel market is expected to develop further in the next few years as the Czech-Slovakian company LR Invest has announced plans to allocate GEL 20 million to develop the town's hotels and luxury apartments.
Performance Indicators 
  Since most seaside resorts are highly seasonal, the annual occupancy rates tend to be relatively low (varying from 23% to 30%), however, the rates reach 75% during the summer.Bordering nearby villages in Turkey, Sarpi and Gonio have the potential to strengthen their shoulder seasons, drawing a substantial number of Turkish visitors. 
Kobuleti and Chakvi recorded the highest ADR among the seaside resorts amounting to USD 59 (up 9% in 2017 from 2016). Contraction of ADRs and RevPARs in 2017 were deeply impacted by the weakening of the Georgian Lari against the US dollar. Despite currency devaluation, the ADR remained stable in Anaklia. Although there is a strong demand growth in seaside resorts, a large supply of residential and apart-hotels is putting pressure on the hotel market. However, as a result of active marketing campaigns promoting the Adjara region and the development of infrastructure in Ureki and Shekvetili, we expect improvement in the performance indicators.