Travel Volume to Georgia
In 2017 the number of international inbound travelers grew by 18.8% y-o-y from 6.4 million to all-time high 7.6 million. The majority of visitors came from Armenia, Azerbaijan, Russia, Turkey and Iran. The number of international visitors from Saudi Arabia, Kuwait and Iran grew significantly in 2017 by 165%, 154% and 118% respectively. Visits from the EU countries also showed the positive trend. Visits from the U.K., Austria and Netherlands were up 40%, 34% and 31% respectively. July and August remained the most popular months for visiting Georgia.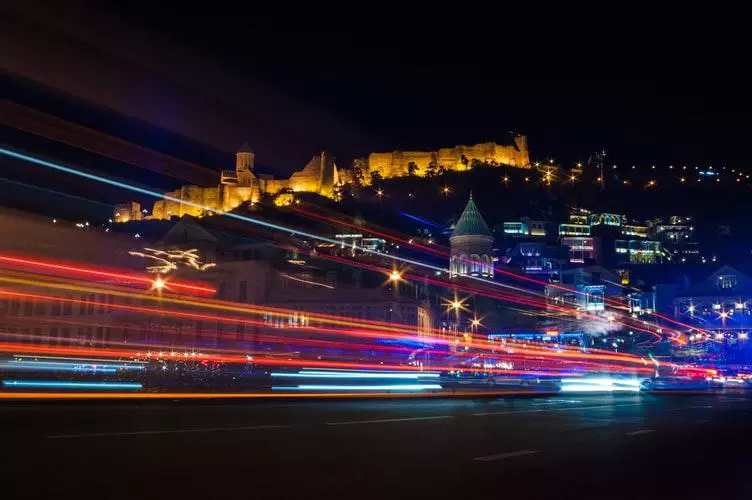 In 2017 46% of the inbound travelers were tourists followed by same-day visit (32%) and transit (22%) categories. Tourist arrivals increased by 27.9% over 2016 reaching 3.5 million visitors in 2017. According to the World Travel and Tourism Council's (WTTC) forecast tourist arrivals will amount to 8,056,000 by 2027. Georgia also ranks 16th among 185 countries in WTTC ranking of "long term-growth of tourism and travel's contribution to GDP". According to the Georgian tourism development strategy, Georgia aims to attract 11 million international visitors by 2025.
Citizens of 95 countries are allowed to travel to Georgia without visa and stay up to one full year. Foreigners who hold visa/residence permit 0f 50 countries enjoy visa-free travel to Georgia as well. Visitors who need to obtain visa can take advantage of e-visa portal for getting the short-term visa. Simplified travel and visa free regimes build on the strong growth of inbound tourism.
Road travel remains the main mean of transport for international arrivals due to the large share of neighboring countries in the inbound travel. However, visits by airlines grew by 47% in 2017.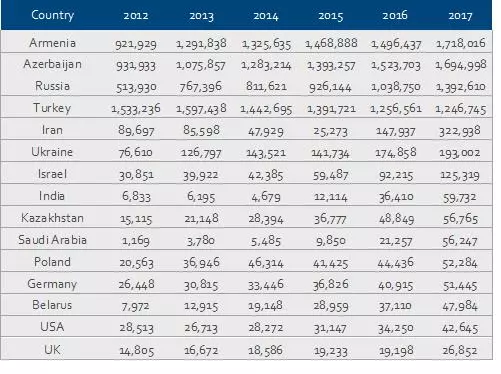 DYNAMICS OF TOURISM ARRIVALS FROM TOP 15 SOURCE MARKETS, 2012-2017
Economic Impact of Tourism
Tourism industry accounted for 7.1% of Georgia's economy in 2016. During the first 9 months of 2017 tourism value added grew by 13% y-o-y and amounted to 3.16 bln. Tourism value added reflects the economic activity generated by industries such as hotels, food and beverage (F&B), travel companies, airlines and other transportation services. Accommodation category that represents 19% of the total value added grew by 33% y- o-y through 9M of 2017.F&B industry was also up 10%. Tourism and Travel industry supported 102,650 jobs in 2016 that represents 15% of total jobs provided by business sector.
Revenues from inbound tourism have been growing rapidly for the past five years. Based on the preliminary data, revenues in 2017 rose by 27% y-0-y and amounted to USD 2.75 billion. The volume of foreign card operations by international travelers has also been growing steadily (+27% ) hitting 2.1 bln Gel in 2017.
Spending volume should increase as Georgia continues to attract travelers with higher holiday budgets.
It has been announced that the 18th World Federation of Tourist Guide Associations (WFTGA) international convention will be held in Tbilisi, Georgia from January 21, 2019 to January 27, 2019. The convention will bring together around 300-500 tourist guides from 70 countries. Hosting WFTGA will increase awareness about tourism in Georgia and will contribute to the development of tourism industry.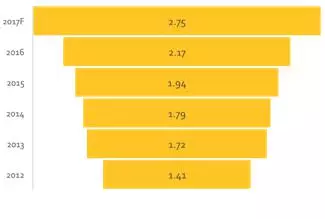 TOURISM REVENUES, USD, BILLIONS
Travel Purposes
Number of guests in hotels has a positive trend during the past four years. Out of 2.54 mln hotel guests in 2016 1.7 million were international travelers. 75% of them were leisure travelers, 21% visited Georgia for business purposes and only 2% for the health tourism. Average length of stay of tourists in Georgia is 13 days. Ukrainian and Russian tourists tend to stay for the longest periods on average 15 and 12 days, respectively. As number of guests in hotels is growing, revenues in hotel industry have increased to 519.8 mln GEl. 
Types of Tourism
Winter tourism is gaining momentum. Government is actively involved in the implementation of various projects. Mestia-Hatsvali cableway construction was completed in 2017. Goderdzi ski resort in Adjara and Tetnuldi ski resort in Mestia were recently opened. Two cableways were added to Goderdzi resort.
Wine tourism, adventure tourism and spa and wellness tourism are in their early development although they have a great potential. Government is planning to intensify work on developing medical tourism as Georgia can become quite competitive in the region offering lower prices to the customers. 

Benchmarking
In 2016, tourist arrivals in Central and Eastern Europe grew by 4%. Many destinations enjoyed strong results, including Georgia (+19%), Bulgaria (+16%), Moldova (+12%), Romania and Lithuania (both +11%). Estonia recorded 5% growth.