Georgia is well recognized globally as a key gaming spot of the region. Tbilisi hosts the majority of the casinos, while Batumi is the second largest gambling city.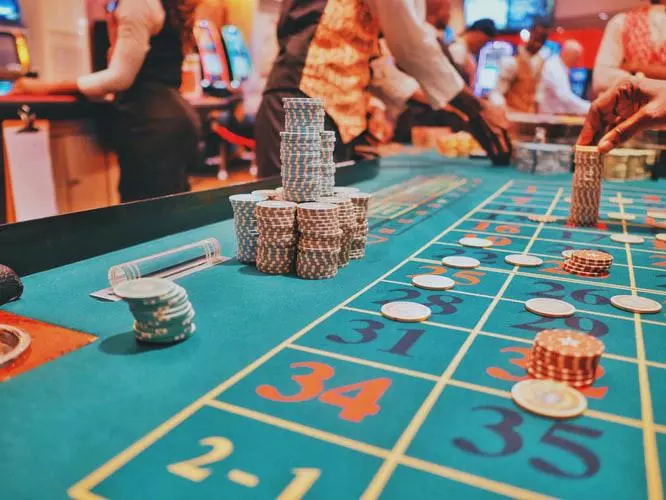 Revenues for gaming venues comprise a large share of the country's economy. The gaming venues' turnover grew rapidly during the last decade, reaching GEL 4,037 million (mln) at the end of 2016, while the first three quartiles' turnover in 2017 totaled GEL 3757.3 mln, reflecting increases of 36% and 78% when compared to the same period in 2016 and 2015, respectively.
Casinos play important role in country's tourism development as the absence of restrictions in Georgian gaming venues attracts number of visitors from neighbor countries. Georgian Casinos offer a wide range of games like Poker, Black Jack and Roulette, as well as slot-machines.
Casino visitors can enjoy a number of gaming facilities. Tbilisi's most recognized casinos include Casino Iveria, Shangri La Casino, Casino Adjara and others. Casino Ambassadori was opened in the city Centre in 2017. Jewel Casino Tbilisi and Casino Aviator will be opened in The Biltmore hotel and Stamba hotel, respectively, in the beginning of 2018.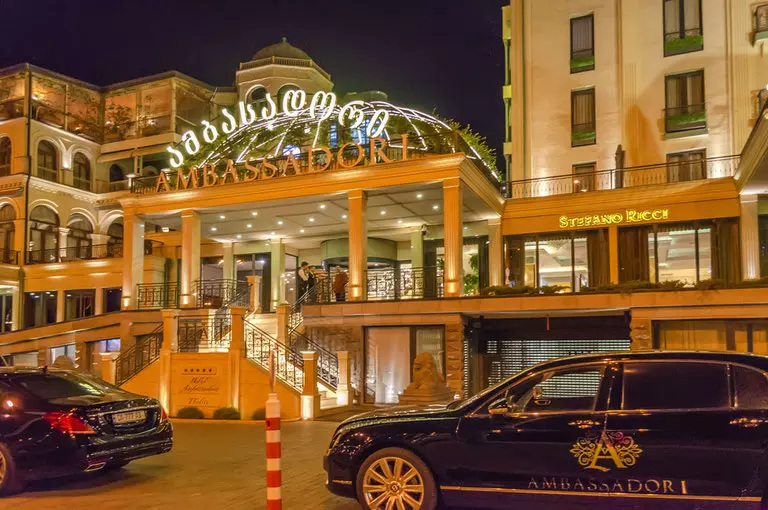 The city of Batumi is another popular gambling destination with a fast growing number of gaming venues. Large- scale casinos, such as Casino Adjarabet, Casino Iveria Batumi and Casino International Batumi operate in the city. Another high-class casinos to open in Batumi include Le Meridien Casino, Euphoria Hotel casino, Mega Palace Hotel casino etc.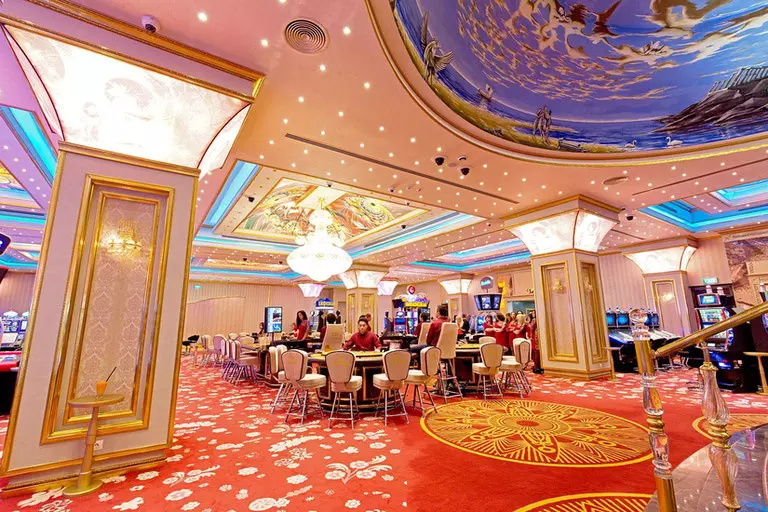 Casino in Batumi
Famous American casino brand Las Vegas also enters Georgian market. It will be placed in 40,000 sq.m recreation complex in Kubuleti resort, including 5-star hotel and various indoor and outdoor entertainment facilities. Started in August 2017, the project is planned to finish by 2021.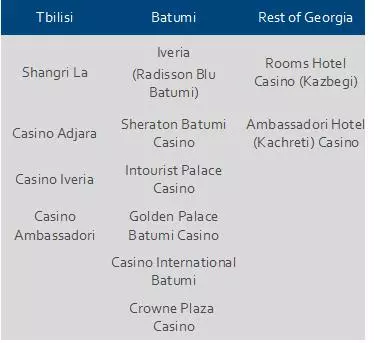 MAJOR CASINOS IN GEORGIA
Gaming regulations in Georgia
1. A casino operator has to obtain a permit from the State Authorities of Georgia. The permit is issued by the Revenue Service of Georgia
2. The validity of the permit is five years.
3. In order to obtain a gaming permit, the person shall meet the special requirements defined by the law and special acts of the Government. The requirements are the following:
a) Casino Regulations that shall include: the list of tables in the casino, indicating the manufacturers number, title, date of production, manufacturing country; the minimum and maximum bets; the manual for operation; Gaming Rules; Rules of Conduct; the place and the time for issuance of prizes; the time for consideration of the claim; 
b) Types of coins; 
c) The type of games that are not indicated in the Casino Regulations are prohibited from being offered.