Supply 
Currently, there are 177 hotels operating in Batumi, offering guests 5,325 hotel rooms. In 2017, three internationally-branded hotels - the Euphoria Hotel Batumi, Wyndham, and Best Western - opened in Batumi, adding another 611 rooms to Batumi's stock. Together with the Radisson, Sheraton, and Hilton, these additions bring Batumi's internationally-branded hotel count to six. The majority of the new supply is clustered in the upscale segment. 850 new rooms are anticipated to be added to the room supply by 2019.
Batumi has the large supply of aparthotels. Orbi Group is the main operator of the privately owned aparthotels in Batumi, with a major project Twin Tower currently under development, which will add 4,000 apartments to the city's stock. As of today, the city has roughly a stock of 2,500 apartments. During the season the occupancy of aparthotels stands at around 80%, while the prices vary between USD 100-200.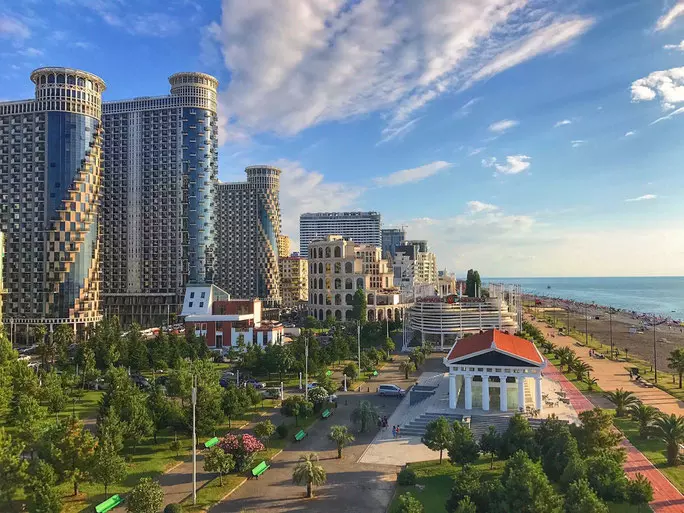 Demand
Travellers from Turkey, Russia, and Ukraine comprise the majority of Batumi's hotel guest numbers. High- end hotels and a broad range of leisure activities are boosting visitation levels. The number of guests in Batumi hotels increased by 44% year-over-year (y-o-y) in 2016, with 90% of those guests visiting Batumi for leisure and 10% in town on business. 21% of hotel guests are locals and 79% international visitors.
In addition to its seaside resort offerings, Batumi's many annual cultural events, such as the Batumi International Art House Film Festival, the Black Sea Jazz festival, Batumi Music Fest, and popular street art festival, work to drive substantial leisure hotel demand as well. Additionally, visitation to the Batumi Botanical Gardens grew by 26% y-o-y in 2017 and amounted to 297,000 visitors. The number of visitors in Dolphinarium also increased 19% y-o-y.
Batumi's hotels also cater to a substantial commercial demand, as the city hosts a number of large corporate events and conferences and several international exhibitions such as Batumi Build.
Performance Indicators
Batumi's hotel occupancy rates in 2017 varied between 31% to 56% depending on the hotel segment. International brands enjoyed the highest hotel occupancy rate of 56%, followed by local upscale and middle, and local budget/economy with occupancy rates of 50% and 31%, respectively.
The Average Daily Rate (ADR) for international brands declined by 1%, while local upscale and middle class, and local budget/economy hotels experienced ADRs of USD 83 and USD 37, respectively. Compared to 2016, the ADR in the economy/budget segment grew by 9%, and decreased by 5% in local upscale and middle segments.
Revenue per available room (RevPAR) in internationally-branded hotels amounted to USD 53, while local upscale and middle segments stood at USD 42, and local budget/economy class reported a RevPAR of USD 11. In comparison with the previous year, RevPAR in internationally- branded upscale and local upscale and middle segments increased by 8% and 17%, respectively. The numbers for economy/budget hotels remained unchanged. 
Looking forward, we expect visitor numbers from the main source markets to rise in the short to medium term as the Adjara Region participates in 27 international tourism exhibitions and events throughout 2018, including the 43rd World Chess Olympiad, the Batumi Eagle Festival 2018, and the International Folklore Festival Caucasus 2018. Additionally, new flights from Lviv, Ukraine to Batumi airport will launch in June 2018, increasing the number of air travelers to the region.