Georgia is the most active economic center in the region. With a liberal tax code, corruption free government, and significant opportunities for foreign investment, it provides a highly supportive business environment.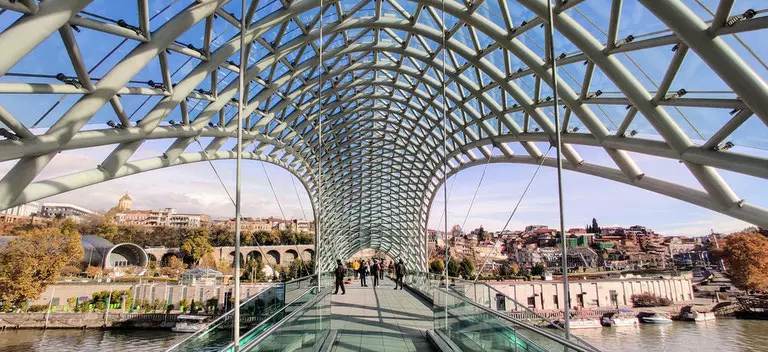 At the crossroads of Europe and Asia, Georgia borders Turkey, Armenia, Azerbaijan, and Russia. The country occupies an area of 69,700 square kilometers (sq km) and is home to a population of 3.7 million people. The country's land borders run a length of 1,839 kilometers (km), while the Black sea coastline is 315 km.
During last two decades, Georgia has implemented large-scale reforms that have led to political and economic transformation. It has strengthened its democracy and furthered its relationship with the EU. Georgia has also made business development within the country a top priority through encouraging entrepreneurship, attracting private investments, and shifting tax incentives, thereby positioning itself as an attractive option to the international business world.
With its unique cultural heritage and exuberant hospitality, Georgia's tourism industry continues to grow and thrive, further bolstering economic growth. 
Government
Georgia is a parliamentary republic. Parliamentary elections are held every four years. Georgia's parliament is located in Kutaisi City and acts as the representative body for the country, exercising legislative power and developing domestic and foreign policy. As an executive council of government ministers, Georgia's cabinet is headed by Giorgi Gacharia. Based on accountability, citizen participation, technology, and innovation as its guiding values, today's government continues to make European and Euro-Atlantic integration a primary strategic objective. 
Legal Framework
The Georgian Constitution, adopted in 1995, lays out the structure of the national government and defines its authority and function. Georgia's court system has three branches: the Courts of First Instance (District or City Courts), the Appellate Courts, and the Supreme Court. The Courts of the First Instance have jurisdiction over all civil, criminal, and administrative cases. Decisions from the Courts of the First Instance may be appealed to the Appellate Courts and further appealed to the Supreme Court. As an alternative to litigation, Georgian laws allow arbitration both in local as well as international arbitration institutions. Georgia is a member of the
Public service hall in Georgia provides customers with state services including business registration and property registration through 'one-stop-shop' principle that ensures efficient service delivery. 
Labor market overview
Georgia's labor force comprises approximately 1,998,300 people. The current unemployment rate is 11.8%, which is lower than the 14.8% average over the last decade. As of December 2016, 14.9% of the working population are employed by public sector, while 85.1% work in the non-public sector. Georgia's labor force is well-educated, multi- lingual and relatively low cost.
Property ownership & non-agricultural lands
In Georgia property rights are recognized and protected by the Law. An owner has the right to possess, use and dispose of his or her property. The rights of individual owners to possess, use and dispose of land are regulated by the land legislation. There is no restriction on non-agricultural land ownership in Georgia. According to the Heritage Foundation Index, Georgia has substantial improvement in property rights and is 11% above the world average.
International Rankings
Georgia has improved its status as a free economy thanks to its fiscal policy, regulatory efficiency, and open market policies. According to the World Bank's Doing Business report 2018 , Georgia ranks 9th for 'ease of doing business' among 190 economies, 4th for 'ease of starting business', and 4th for 'ease of registering property'. In 2017 Fitch Ratings has affirmed Georgia's Long-Term Foreign Currency Issuer Default Rating at 'BB-' with a Stable Outlook. Standard &Poor's and Moody's rated Georgia as 'BB-' and 'Ba2' respectively.
Georgia has been among the top 'most improved' countries four times in the past 13 years. Registering a new business takes a maximum of two days and requires no minimum capital requirements. According to the 'Heritage Foundation Index of Economic Freedom 2018,' Georgia's economy is categorized as Mostly Free, ranking 16th across 180 countries.
Georgia remains the least corrupt country in the region. According to Transparency International, Georgia remains the top performer among the Eastern Partnership countries.
Foreign investors in Georgia are guaranteed equal rights to those of Georgian citizens. After payment of taxes foreign investors are entitled to repatriate the earnings (income) gained from investments and other funds abroad.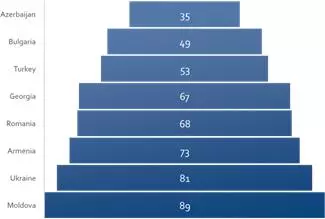 GLOBAL COMPETITIVENESS INDEX 2017-2018
Tax Climate
In order to attract investments and boost economic growth, an Estonian-type tax model was adopted in 2017 that exempts undistributed earnings from profit tax, and instead taxes distributed earnings only. Georgia has a liberal tax code that includes only six types of taxes: Profit Tax (15%), Personal Income Tax (20%), Value Added Tax (18%), Import Tax (0%, 5% or 12%), Excise Tax (on selected goods), and Property Tax (up to 1%). Georgia has Double Taxation Avoidance treaties with 52 countries.