Today we are talking about how to open a bank in Georgia, buy or sell an existing bank. The material requires detailed research, consultation with experts. These factors, details, and features are the main focus of our investment project - opening a bank in Georgia. For those investors and entrepreneurs who want to open a bank in Georgia, we recommend to save the page in bookmarks and set aside time for a step-by-step study of the offer. For those who want to buy an existing bank in Georgia, go to the section Business in Georgia and select available private banks for sale.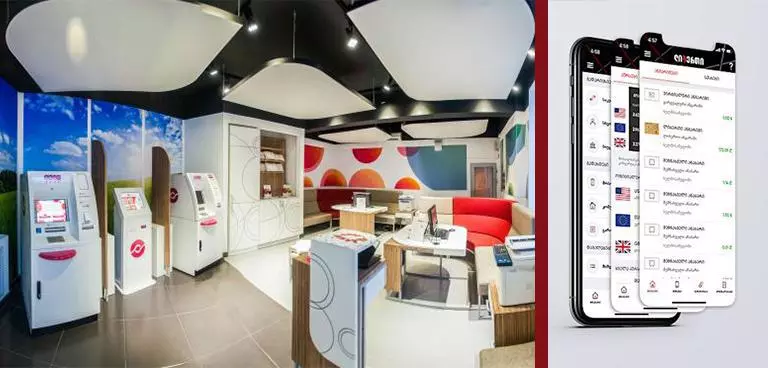 Red line-Photo on the left – the bank then, photo on the right- the bank now.
Instead of introduction...
The current time of total digitalization of all analog processes leads to what we call digital economy, digital business, or digital solutions. In fact, the process of digitalization of industries is a natural stage in the development of our future, which occurs simultaneously with the development of technologies. We actively use digital solutions, as well as digital applications, which are either a replacement or an addition to the old, well-known analog processes. When was the last time you caught a taxi by waving your hand, or called a friend from a telephone box, or wrote a telegram? All these analog processes have been replaced by digital solutions that have slightly modified our communication and interaction. As a result, this has affected all processes in the economy, because the exchange of information has become cheaper and at the same time faster. The next step is digitalization and the emergence of a new generation of companies - companies that are completely digital. These are businesses that every user has in their smartphone... Digital business is the new oil. But to pump this oil and get the extra profit you do not need expensive equipment or places to load oil, you need something else. You need your business to be on the smartphone of all users. And here we want to make you happy - back in the 90s, Bill Gates, the Creator of Microsoft, told the world that if you are not on the Internet, you are not in business. These words sound more convincing today than they did back in the 90s, almost 30 years ago. But only today, we have to state the fact that less than 2% of companies in the world have been digitalized. What does this mean?
- first of all, it means that the market is waiting for a huge transformation because the process is happening even slowly.
- secondly, the world order of power distribution will change, because those who pass digitalization will become new niche leaders
- third, the competition for a place in the user's smartphone is getting higher
- fourth, the new rules of marketing and business are beginning to take effect.
The world is becoming global and digital. For businesses, this also means no borders at all. Your customers - can be from anywhere in the world, who bring you to profit online, 24/7 to ensure this, in the 3rd period of digitalization of the industry there is everything-decentralized data storage technology, online solutions, the Internet, audience, and potential customers. In fact, this means that we do not offer you a solution that only serves the Georgian market. No. We offer you a solution that serves customers from all over the world, but we will be registered in Georgia. We will return to the legal form of the bank, but first, let's think about these issues:
when was the last time we called on Google /Facebook/Twitter/?
how many users do these platforms and similar mobile apps have?
what countries are these users from, and how many languages do they speak?
Is each new download and recommendation a new client in your business?
what is the revenue per 1 client?
Counting the numbers, you realize that we are talking about an impressive amount. However, there are a number of recommendations and principles that you should pay attention to and that definitely should determine that the business plan of the bank's investment project is not suitable for you
blockchain, transparency, and integrity - we want to build a bank and implement a decentralized data storage system based on the blockchain. No one will ever be able to manipulate data, delete it, etc. The Ministry of Justice of Georgia has been working on the blockchain since 2017, America and the OAU. The world is adopting blockchain technology, and the faster the development of technology is, the more obvious it will become that transparent banks are more profitable. If you are going to manipulate data, carry out some gray schemes, etc. - this is not for us. Pass.
digital currencies, cryptocurrencies - the speed of the transaction, its confirmation, and indeed the very form of calculation using cryptocurrencies is not only a trend, but it is also the current reality. Banks are scared now that they are no longer needed because of the arrival of cryptocurrencies. After all, the bank is an intermediary who earns on both of you-the recipient and the sender. Every time we think about it, why do we pay a commission for our own money? You can doubt, not understand, not accept this fact. The world reacts by introducing cryptocurrencies as a means of payment and settlement. Banks are forced to adapt to this because it is an inevitable process of transformation, accompanied by the digitalization of the banking industry. Please draw your attention, why Facebook launched its cryptocurrency and payment service CALIBRA? What is the social network's interest in this?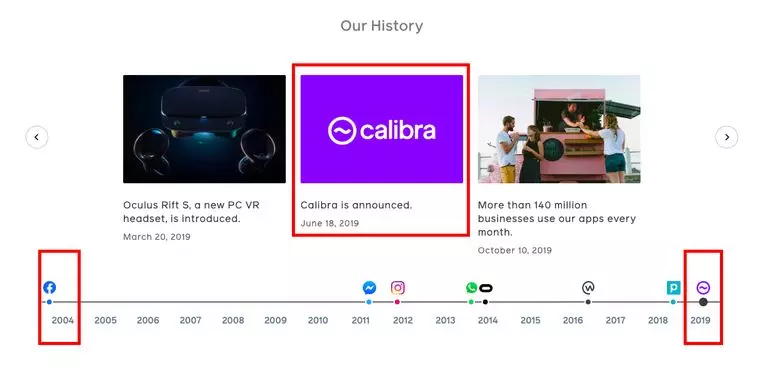 Facebook announced the launch of a cryptocurrency and wallet for social media users FB networks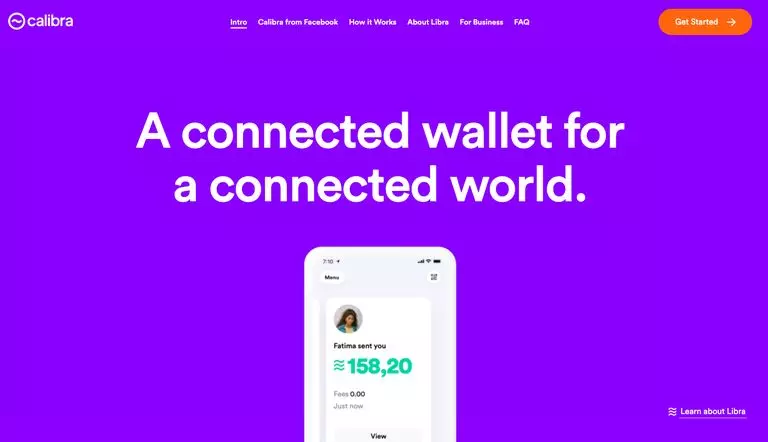 https://www.calibra.com -Calibra is a single wallet for connecting the world
Do you think this is a startup? Or the company's joke plans? In the history of Facebook, it is clearly visible how in 2011 the messenger, which no one understood why the company was launching, turned out to be the #1 communication tool, or how Whats'app became a new communication medium, not to mention the fastest-growing social network Instagram, which was bought by Facebook and became part of its products. In our opinion, Facebook has already proved that it can follow trends, and is happy to buy businesses for billions of dollars that keep up with digital time.
Do you remember any companies that were created and sold so quickly and so expensively? Below we will show some striking, impressive examples. In our introduction, we want to reflect on the fact that we do not know whether we will work with the bank of the new generation until the last one or sell it when the offer from the giant arrives. One thing is obvious: being an investor in our technology group, investing in our business plan, whether it is our final property, as beneficiary, or a sale – it is risky, but you may increase your investment greatly. Therefore, if you are not ready for risk, do not contact us.
Regulators will crush. We are well aware that if in the current situation even the Facebook monopoly has been strictly regulated by various monitoring services, it becomes obvious that we will also face situations that will require a solution. In particular, the strict regulation of the market for new banks (in general), and especially the digital industry. Nevertheless, we are ready for this and have provided for it in the business plan.
Fast crypto payments. While the world is waiting, money is being made. Various transactions are already paid with cryptocurrency. And at the moment, we have become developers of a crypto platform that is integrated with an international real estate search engine from developers and owners around the world GEOLN.COM. Put it simply, we started selling and buying all real estate with cryptocurrency online. Read about it here - https://crypto.geoln.com. We integrate cryptocurrency payments into the bank. This is a tool and a reality for us. Think for yourself, when the cryptocurrency cost a few cents, (for reference and protocol, we give as an example...), suppose we bought it for $ 1,000,000, after some time, the invested amount became equivalent to the face value of $ 1,000,000,000. How do you like this growth and capitalization? And if you think that this is the limit, we want to say that you can grow even more and faster and lose everything because this is not such a solid product as a factory, or a technological production, where everything is clear since the invention of the engine. This is a new digital economy that we want to lead by implementing a solution - a digital bank.
We need specialists "NOT programmers" - we are programmers. Many of us work or have worked in GOOGLE, FACEBOOK, etc. We are all programmers and we know how to create a cool technological product. How to make it safe, how to make it convenient, and thousands of other questions with code and development we know. We can create a product, and we can tell you why there are no analogs of our development on the market. Here only we are not able and moreover we hesitate to sell, we do not know marketing. That's why we need our own Steve Jobs. We need a marketer and seller, or a company that will do turnkey marketing. If it is a problem for you that we do not have professionals in advertising - we are not suitable for you.
After we told you why you should not work with us, and if you are not confused with it, below is our business plan and investment offer:
We are ready to invest our own funds from $ 1,000,000, which we will spend on the development. We are familiar with it.
We are ready to work hard and only on this product.
We are ready to hire the best marketers and sellers.
We are ready to cooperate, but we will not be commanded. Many of us earn decent money from $ 100,000 per month and are not ready for stress. Perhaps we will not tell you all the members of the team of programmers because we are worried that you will want to lure someone or buy them out... And we want to take the top of digital banking first, as Facebook did in the social network market.
 If everything is OK - below is our business plan and investment offer. To contact us, use the chat on the website or write by e-mail. We, developers and programmers, communicate in writing. If you are interested in a personal conversation, contact our individual, exclusive representative at the contacts listed on this page at the bottom of the website. You can request clarifying tables by sending an email to info@geoln.com.
Content: investment project of the digital bank of Georgia based on blockchain technology:
I. Investment portfolio and profile of Georgia
Investment Overview of Georgia
Overview of tax law in banking regulation
Overview of legal law in banking regulation
Virtual IT zones for IT companies
Georgia is a country for investment - a magnet for investors
The Ministry Of Justice Of Georgia. The blockchain technology.
II. Overview of the Georgian financial sector
Investment companies in Georgia
Private and public investment funds
Research of the country's financial market
Research and comparison of the competitive environment. Operating banks in Georgia.
III. Overview of the Georgian banking sector
Estimation of profits and losses of the banking sector.
Analysis of the situation in the banking sector of Georgia for 2019-2020
Research of existing mobile solutions and mobile banks
IV. Investment project of a digital bank based on blockchain technology that operates worldwide and is registered in Georgia.
The name of the concept.
Marketing and positioning
Single main banking building
SWOT project analysis
The report about the marketing research project
Financial model of the bank's project
V. Business plan of the bank's investment project in Georgia based on blockchain technology
The overall operational plan. Project summary
Services. Cost of services
Assessment of required investments
Financial model of the project
Stages of the project
Characteristic of an object
Marketing plan
Technical and economic data of the equipment
Financial plan
Risk assessment
Financial and economic justification of investments
Conclusions
VI. Sources and expert comments. Appendix
List of sources
Expert commentary
Partnership and implementation formats
Table 1. Stages of the project
Table 9. Structure and individual performance indicators of credit institutions at the beginning of the year
Table 10. The internal display of quotations of currencies
Table 11. Shredder for paper destruction
Table 12. The banknote counter
Table 13. The banknote validator
Table 14. The coin counter with sorting function
Table 15. The coin sorter
Table 16. The coin packer
Table 17. The cash register with a delay in the opening (tempo-cash register)
Table 18. A set of cassettes for Euro coins
Table 19. The plastic card counter
Table 20. The IVECO daily armored car
Table 22. Discounted cash flows of the bank's activities for 2 reporting periods
Table 23. Project implementation costs
Table 24. Labor costs and tax deductions